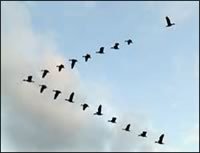 Remember a Lesson From the Geese 
As each goose flaps its wings, it creates an uplift for the birds which follow.  By flying in a chevron or "V" formation, the entire flock adds 71 percent greater flying range than if each bird flew alone.
Lesson: People who share a common direction and sense of community can get where they want to go quicker and easier because they travel on each other's thrust.
ARE YOU BEING PART OF THE WEA THAT CREATES THE UPLIFT OR THRUST OR ARE YOU LETTING A FEW TRY TO FLY ON ALONE?